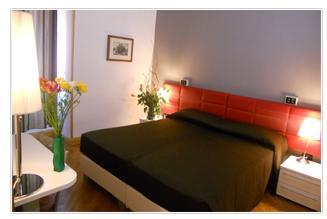 Your house in the heart of Rome is Hotel Magnifico, a splendid and central structure, located in the famous Via Nazionale, easily reachable from the Termini Railway station, inside a picturesque building that was an ancient monastery of the end of the 19th century.

Refined and elegant decorations, high-quality services, recently renovated with rooms provided with every comfort, where you can see the care of the detail in refined parquet floors and decorations in splendid oak. Here you can be immersed in air conditioned, calm and tranquil ambiences, which guarantee your privacy and unique and calm views.

You can choose among a big selection of rooms: double rooms or suites, the possibility of spending a comfortable stay.

Breakfast is available inside the room mini-bar: fruit juices, orange juice, yogurt and water, croissants, wafers and crackers, butter, jams and rusks.

At the reception is at your disposal a drinks machine which contains coffee, coffee with milk, ginseng coffee, cappuccino, milk, hot chocolate and lemon tea.

The structure enjoys an enviable situation, near Via Nazionale, perfect for shopping, near the Termini Railway Station, which you can easily reach with the bus number 64 in just 3 stops. Moreover, in the neighbourhood you can find public parking.

Our hotel is perfect both for short or medium permanence.